"Beyond Everything" Summer Exhibition 17.6.-27.8.2023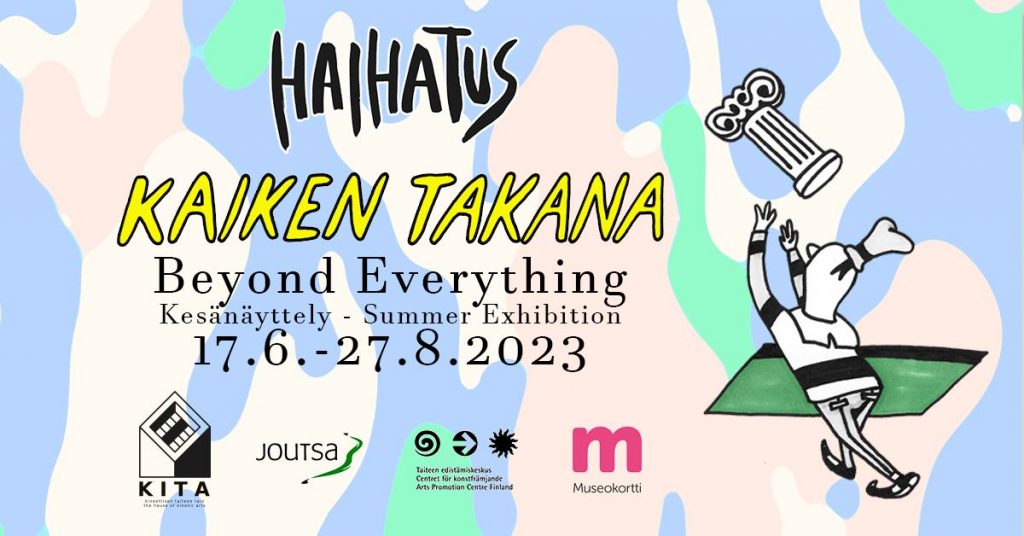 Haihatus Art Center's 24th annual summer exhibition brings over 30 artists to Joutsa, Finland! This year's theme for the summer 's group exhibition is "Beyond Everything". The exhibition focuses on transcendent energies that move and work beyond our sensory perceptions and experiences of the world: different influential powers and energies, the bending dimension of time, and the ever-blurring borders of consciousness come together as one.
Haihatus's two-floor Gallery-house is curated this year by Helsinki-based curatorial collective Oksasenkatu 11 which includes artist-curators Athanasía Aarniosuo, Hanna Marno, Lauri Antti Mattila, Ida Palojärvi and Julius Valve. Art works from Finnish and international artists will also be exhibited on the Haihatus yard, Fantasia-house, Kesäkino (Summer Kino), ITE-pelto (Folk Art Field), and at the community art project Voimametsä (Power Forest), and in the nearby located House of Kinetic Arts KITA.
Confirmed artists of the summer exhibition: Erik Alalooga, Artemisia Vulgaris, Anders Bergman, Lotta Blomberg, Baran Caginli, Cleaning Women, Michal Czinege & Maija Laurinen, Santiago Delgado, Jenni Eskola, Noora Federlay, Siiri Haarla, Hannah Harkes, Aaron Heino, Aino Johansson, Lasse Juuti, Kallo Collective, Marja Kanervo, Anssi Kasitonni, Asko Keränen, J. Koho, Laura Könönen, Mikko Laaksonen, Johanna Latvala, Maria Mattila, Anna Miller, Panu Ollikainen, Ilmo Paukkunen, Essi Pitkänen, Risto Puurunen & Marita Isobel Solberg, Matti Salmela, Jenni Sormunen, Restlessminds, Shubhangi Singh, Mika Taanila, Antti Tolvi, Keijo Virtanen, Julius Valve, Steve Vanoni ja Tuomo Vuoteenoma.
There will be lots of summer program, such as Music Sundays and Kallo Collective's "Into the Wild" performance that merges puppeteering and physical theatre.
"Beyond Everything" Summer Exhibition 17.6.-27.8.2023
Open from Wednesday to Sunday
Closed on Midsummer holidays 23.-25.6.2023
Press:
https://drive.google.com/…/1DddWo88BTem…
Art Center Haihatus homepage: http://haihatus.fi/
Art Center Haihatus FB: facebook.com/taidelaitoshaihatus
Art Center Haihatus IG: instagram.com/haihatus/
Info and request for interviews:
Art Center Haihatus, Risto Puurunen
+358 400 858 639, risto@haihatus.fi
House of Kinetic Arts KITA, Tuomo Vuoteenoma
+358 50 369 3839, tuomo@haihatus.fi
Oksasenkatu 11 ry, galleria.oksasenkatu11@gmail.com